*
BLOG

*
find out what we are up to
our christmas sales are coming!
Posted 12/10/2020



Well 'the' season is almost here! Our pop up sales at Christmas time are always the busiest and raise the most for charity, but what with this 'situation' we will be holding our sales online. Such a shame to be missing out on seeing people face to face - the sellers and the shoppers.

But fear not! We shall carry on promoting and supporting small businesses and shall tempt you away from the Mr Bezos of this world (frankly, he has enough money already). You might have seen people share the phrase that every time you buy from a small business they do a little happy dance. Well - it's true! So let's shop small this Christmas.

We have TWO sales coming up, with different sellers in each one. Click on our Events page to find out when they are and who's taking part. What's more, we are thrilled to be raising money for Dorset & Somerset Air Ambulance via both sales. 10% of everything bought through the event will be donated by our lovely sellers and we hope to surpass all previous sales and give them loads and loads of money.

Did you know that air ambulance charities receive no direct funding from the Government or the National Lottery and rely on the generosity of the public for support? Their operational costs are over £5 million a year and the approximate cost per mission is £3,000.

They provide a Critical Care Team, consisting of at least a Doctor and Specialist Practitioner for each mission. The doctors are predominantly drawn from NHS Hospital Trusts across the region and the practitioners from the South Western Ambulance Service NHS Foundation Trust (SWASFT).

No one can deny the importance of this charity and I think we all know someone who has had experience of their life saving work. They have been in my village twice this year alone.

So please do take a look at our sellers and when the sales are here (1st & 2nd November then 4th & 5th December) please do shop away! There will be lots of special offers such as discounts and free delivery PLUS of course 10% will be donated...

Thank you for your support.

Best wishes, Jess x


SUCCESS WITH OUR FIRST ONLINE SALE!
Posted 20/07/2020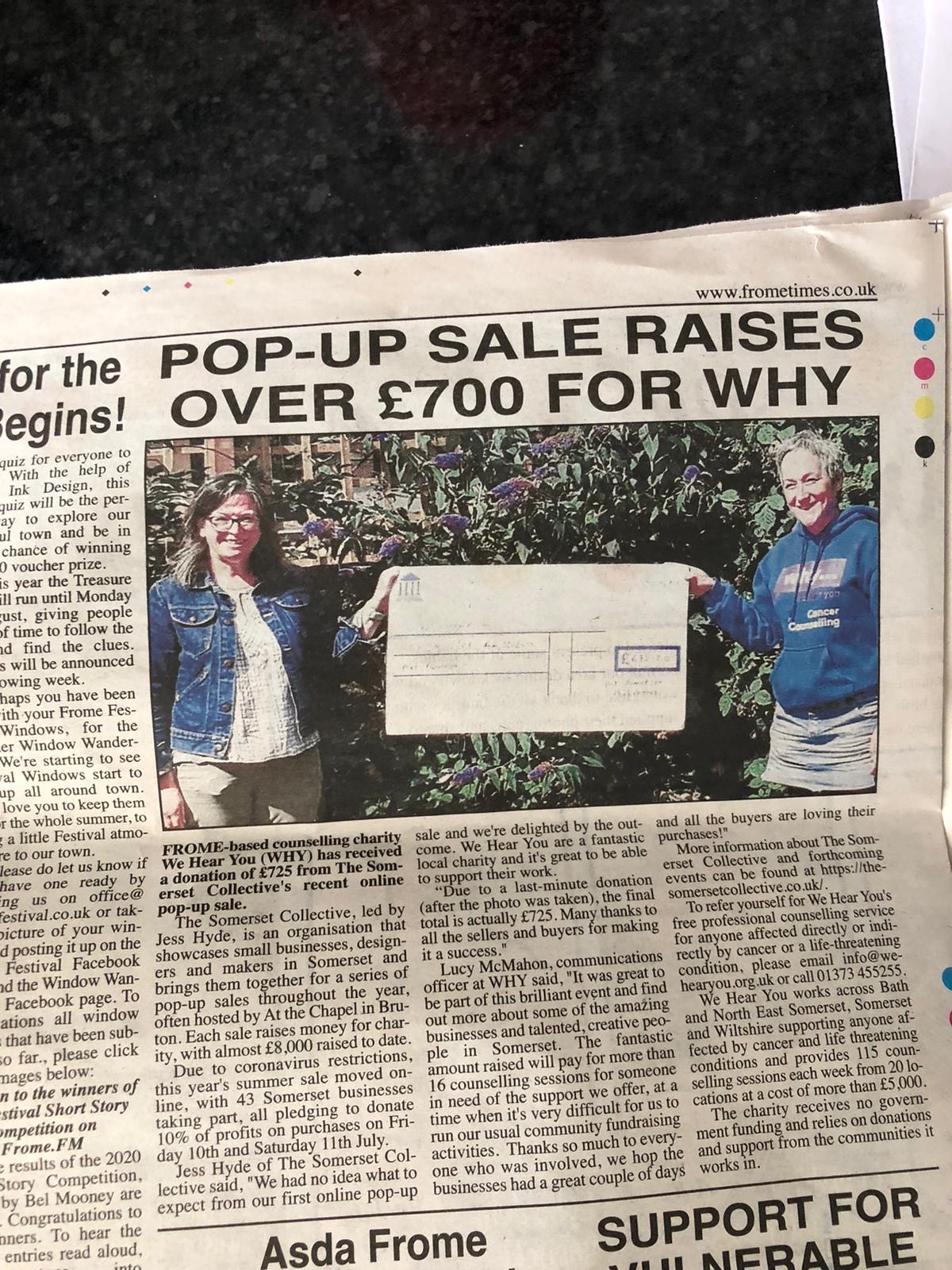 RAISING £725 FOR charity 'WE HEAR YOU'


On Friday 10 July we had our first online pop up sale. It was definitely a steep learning curve! We had 43 great local businesses taking part and kindly donating 10% of sales to Frome based charity, We Hear You. Tracking these sales was the head scratching bit and happily most sellers were able to use the code TSCPOPUP to spot the Collective buyers. Almost all also offered extra goodies such as discounts, free delivery and free gifts. For small businesses this is a big deal - giving away 10% of sales plus more can really cut into profits for small independent businesses and I am so grateful to them.

At the end of Friday we decided there were more sales to be had and at the last minute added on Saturday - 2 days was definitely the way to go here and we will do that for future sales. Once the sale was over everyone added up their 10% and we were thrilled to end up with £725 after a couple of last minute extra donations.

A few days later I met with Lucy McMahon of We Hear You to present her with a big cheque (I've always wanted to do that!). You can read the article in the Frome Times above. The amount raised will pay for 16 counselling sessions for those affected by life threatening illnesses, including Covid-19.

As with so many charities, We Hear You has been drastically affected by the pandemic with a steep drop in their fundraising, but their help is needed more than ever. They provide 115 counselling sessions a week from 20 locations across the south west. They receive no government funding and rely on donations and support from the community.

To find out more please visit their website www.wehearyou.org.uk. If you've been affected and would like to find out about their free counselling service please email info@wehearyou.org.uk or call 01373 455255.

So a huge thank you to everyone who took part in our sale, whether selling or buying. We are planning two more online sales before Christmas, so watch this space!

Best wishes, Jess x


THE SUMMER POP UP IS GOING ONLINE!
Posted 24/06/2020


AND RAISING MONEY FOR 'WE HEAR YOU'...


Hello there! What a strange few months this has been. Here at TSC HQ I decided to wait until lockdown was easing a bit before organising an online sale. Now seems to be the right time as people emerge from their burrows!

On Friday 10 July from 8am til 10pm you'll be able to shop with a wide range of amazing independent businesses based in the South West, and they'll all give 10% of sales on the day to our chosen charity, We Hear You.

Hop on over to our Summer Pop Up Online event page, browse through the sellers on there (NOT the Our Sellers page, as not everyone who has sold with us in the past is able to take part), then click to view their page where you'll find out all about them. You'll also see if they are offering an extra deal on the day, such as a discount or free delivery. Take a note of how to order so that they know you're shopping via us (usually the code TSCPOPUP) then go into their website and get shopping! Don't forget to come back to our site for your next browse....

At the end of the day they'll add up all the orders and give me 10% of this total to pass onto We Hear You. This is a wonderful charity based in Frome providing free therapeutic support to children, families and individuals in Bath and North East Somerset, Somerset and Wiltshire affected by life-threatening conditions. They have been around for over 25 years and mostly counsel those affected by cancer but have been working hard helping those affected by Covid-19 in these past few months. It costs £5000 every week to offer free support to those that need it and we are thrilled to have teamed up with them for this event.

So, let's give it a go! Our sales are usually so social and fun but obviously we can't have that this time but we still want to raise money for such a great charity.

No parking problems to deal with; no work getting in the way, as this will be live from 8am-10pm; no rainy day to put you off going; no need to get dressed and you don't even need to live nearby - we are hoping to welcome buyers from all over the country!

Thank you for your support and thank you to our wonderful businesses for taking part.

Best wishes to everyone

Jess
The Somerset Collective


HELLO & WELCOME!
Posted 07/03/2020


A LITTLE ABOUT ME AND US


Well, here's our lovely new website! Isn't it fab? Thanks so much for popping by. If you have a minute, please do read this - the first blog!

My name is Jess and that's me in the hat. In fact I bought that hat at a Somerset Collective a few years ago from Nicola of Forage Somerset (she even took this photo in The Newt in Somerset). I was just a shopper back then but soon I began to sell Neal's Yard Skincare at the Collectives, which were then run by Gemma Bond and Nicky Mendoza-Wilson. They soon became friends of mine and I helped out with social media for the events. Gemma stepped back from organising a couple of years ago and I stepped in with Nicky. Then Nicky stepped back to focus on her shop Rose & Lyons in Bruton (my most favourite shop) and so here I am.

The Collectives have been increasingly popular since 2015 and I decided it would be good to take our wonderful sellers around the countryside so, as well as At The Chapel in Bruton, we've been to Hammonds Farm B&B in Stroud and are about to pop up in the Kitchen at Jordan's Courtyard.

I love finding new people to sell at the events and I love organising them... but I really love the day of the sales, especially once they get going and the shopping starts. (I admit the early mornings aren't my idea of fun but once the doors open and we're off, that's the best bit.) And then working out how much we've raised for charity. That's the icing on the cake. Our sellers are so generous and give 10% of what they sell on the day - as small, independent businesses I know how much that means. It's not easy making money these days and to give some of your turnover to charity as well is amazing. The Collective has raised over £7000 for a range of charities.

So there we go. Please do follow TSC on Instagram and Facebook to find out more about the sales as they come along.
See you soon I hope, Jess x